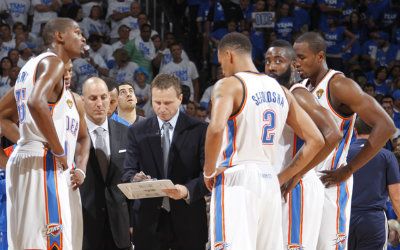 At RealGM, a look at
how Oklahoma City's coach continues to cost them
:
On Wednesday, as the Oklahoma City Thunder were knocked out of the playoffs, the Miami Heat moved on to their third consecutive Eastern Conference Finals. Russell Westbrook's season-ending injury dramatically weakened Oklahoma City, but Miami did a far better job without Chris Bosh, their second most-important player, when he missed 10 playoff games last year. While the situations aren't identical, the Heat are ultimately the measuring stick by which the Thunder should be judged. In that respect, Scott Brooks comes up woefully short in comparison to Erik Spoelstra.

Spoelstra, operating in the shadow of Pat Riley and LeBron James, has done an excellent job since losing to Dallas in the 2011 NBA Finals. Not only has he managed the egos of the Big Three, he hasn't been afraid to alter his team's identity in order to find the right mix. In contrast, Brooks has pounded square pegs into round holes for years, refusing to make the adjustments necessary to win a playoff series against an evenly matched team. To understand how poor a job Brooks has done in Oklahoma City recently, let's imagine what he would have done in Spoelstra's shoes.
Of course, even if Brooks had been as flexible as Spoelstra, the Thunder might not have gone further in any of the last three years. A coach can only do so much; in a seven-game series, the best team almost always wins. The real concern isn't that Oklahoma City lost to Dallas, Miami and Memphis in the last three years, but how they've done so. They were knocked out 4-1 all three times. That tells you the coaching staff isn't having success making adjustments against a better opponent, probably because Brooks never makes any. When you're down 3-1, why not alter your starting lineup? What do you have to lose?