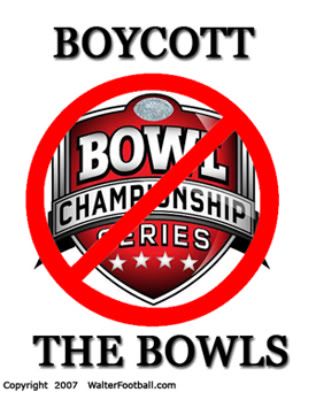 At PolicyMic, a look at
why no amount of public pressure will eliminate the BCS and why a playoff system is still an impossibility
:
It does not matter that a playoff system similar to "March Madness" would be wildly popular and could generate billions of dollars in revenue. That is money the NCAA, not the six member conferences in the BCS, would control. Money that would be redistributed to over 100 Division I football programs and allow smaller schools like Boise State the same type of chances to compete that Butler gets in college basketball.

These programs are similar to many publicly traded corporations: They generate nearly $100 million in revenue annually, they have a weak grasp on a dominant market position (being at the top of their respective conferences) and they have very short-term minded shareholders (fans whose money and interest fund them). Their business models depend on winning; anything that weakens their place on the top of the food chain would be bad for business.

College football has no commissioner like the NBA's David Stern or NFL's Roger Goodell looking out for the interests of the sport. As a result, the only way to force the BCS monopoly to make a decision against their business interests would be a boycott that significantly affected their profits or an anti-trust investigation by the federal government.