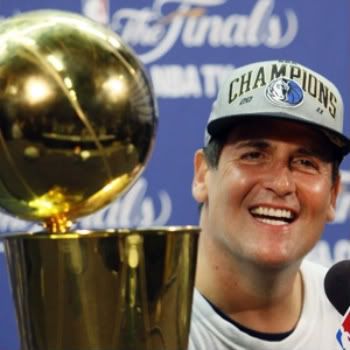 At RealGM, a look at
how Marc Cuban and Robert Sarver (Suns) have affected the careers of their franchise players
:
Cuban buys draft picks; Sarver sells them. Since 2004, Phoenix has sold the rights to Luol Deng, Rudy Fernandez, Sergio Rodriguez, Nate Robinson, Serge Ibaka, Wilson Chandler and Craig Brackins. It's hard to imagine how much better the Suns would be now if they had kept their young talent.

In a world where Cuban and Sarver switched teams, the Suns would still be one of the NBA's elite teams. They'd have Amare Stoudemire and Joe Johnson to ease Nash's burden offensively and more than enough trade pieces to acquire the type of defensive-minded big man that pushed the Mavs over the top. Dirk, meanwhile, would be stuck on an aging roster, fighting just to make the playoffs every season.

If Nash had lead the Suns to a title, many would have placed him over Kidd, John Stockton and Gary Payton historically. Dirk, without another legitimate shot at a championship, would have been seen as one of the greatest choke-artists of all-time. The impact ownership can have on a player's career is another reason why team achievements should be taken with a grain of salt when comparing individual players, and it's a cautionary note to the three elite free agents of 2012 – Dwight Howard, Deron Williams and Chris Paul.