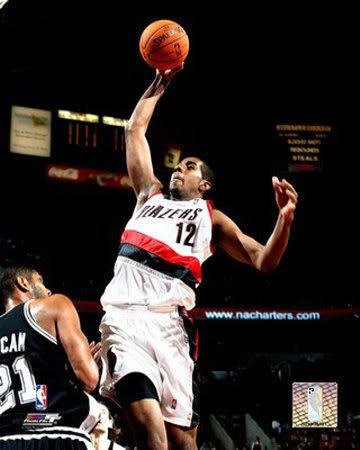 At RealGM, a look at why
LaMarcus Aldridge is next in line at the power forward position
:
With Tim Duncan and Kevin Garnett's careers winding down, the future of the power forward position is wide open. Because they were usually the more skilled of a team's two big men, power forwards had traditionally been shorter than centers: Karl Malone was 6'9, Charles Barkley was 6'6. But along with Dirk Nowitzki, the tandem of Duncan and Garnett revolutionized the position: they were seven-footers who had the skill-sets to play away from the basket.

At 6'11 240 with a 7'5 wingspan and a vertical over 30 inches, Aldridge has an incredible combination of size, length and speed. He can defend low-post scorers, move his feet on the perimeter and protect the rim. While young players tend to improve on defense as they get older, there's almost no chance that Kevin Love and Blake Griffin, both with wingspans under seven feet, will ever have the same defensive impact as Aldridge.

He's the most complete big man in the NBA, and his versatility is a huge asset for Portland. He's capable of playing elite defense at the power forward and center positions, while also being a threat to score from the low block or the high post. Pau Gasol is the only other big man in the NBA who can say that, and he isn't nearly the athlete Aldridge is. The Trail Blazers can go big with Aldridge at the 4 and Marcus Camby at the 5, and they can go small with Aldridge at the 5 and Gerald Wallace at the 4.