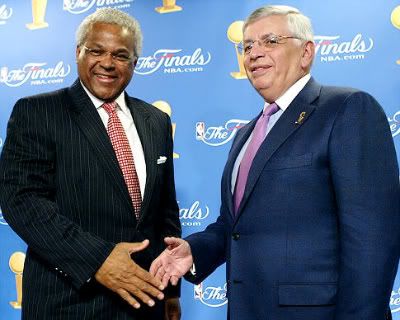 At RealGM, a look at
how this weekend's "pivotal" CBA negotiations showed us the way the lockout will end
:
The reality is simple: they have all the cards, now it's just a matter of waiting for the union to fold. The vast majority of NBA players, like most people in their twenties, live paycheck-to-paycheck. That was the lesson of the 1999 lockout, and it's unlikely much has changed since, as 60% of NBA players declare bankruptcy within five years of retirement.

If you assume the league's revenue grows by an average of 4% a year over the next decade, the difference between what the players make under the old CBA and what they would make under the owners' proposal is over five billion dollars. That's billion with a 'B'.

Now, with the cancellation of games almost unavoidable, the owners' bargaining position is clear: they are going to take as much money as they possibly can from the players, and there is nothing the players can do to stop them.

It doesn't matter if it happens now, if it happens three months from now or if it happens a year from now. It's nothing personal. It's just business.