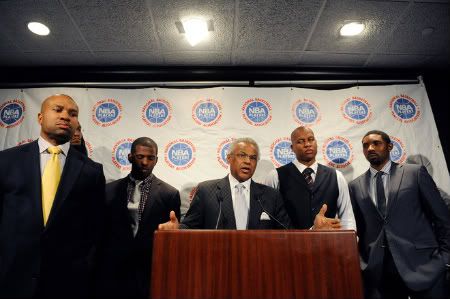 At RealGM, a look at
how the owners bad-faith negotiation tactics have made the players worry about future CBA talks
:
Some have blamed the agents, who will be receiving commissions long after the current players are retired, for misleading the players into making a short-sighted, money-losing stand. But there's a reason that veterans like Kevin Garnett, who have now been through three labor negotiations, are the ones urging the players to stand firm.

They feel an obligation to fight for the next generation of players, because they know that no number will satisfy the owners, not when they can always get more. It doesn't matter what happens over the course of the new CBA; the owners consistent refusal to negotiate in good faith is a good indication they'll be asking for even more money whenever it expires.

In comparison, the NFL and MLB each had eight different franchises win championships in the last decade. Because of the inherent differences between the sports, the NBA will never have the same amount of parity as the NFL, so owners can always claim the newest CBA needs to level the playing field between franchises.