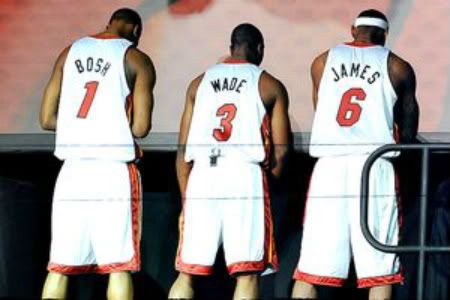 At RealGM, a look
at the stakes for everyone in Miami a year after "The Decision":
By going to Miami, he was

betraying the narrative of the NBA superstar

in the post Michael Jordan era. Rather than besting Dwyane Wade in the same way that Jordan defeated Clyde Drexler, LeBron joined Wade's team.

It was something Jordan never would have done

.
Yet, as Jay-Z is essentially saying in his verse, so what?
Is real "power" being the world's best rapper or its greatest basketball player? What's the point if you don't have control over your own life? If you don't have the freedom to "get out from up under you / f*** rollies, labels, f*** what everybody wants from you"?
Now, as a new season finally begins, LeBron and the Heat are playing for something bigger than themselves. Throughout the history of professional sports, owners have fought tooth and nail against free agency. Miami did not build a championship team; they offered a blank slate to three All-NBA players. A Heat title would show that

ownership is, at best, a necessary evil

.
Can a team assembled by three guys over a few Olympic practices really defeat 29 other teams meticulously assembled by hundred-million dollar organizations over the span of years? If LeBron James Jr. and Bryce James are blessed with the size and talent of their father, will they have the same freedom to choose where they want to work? Or, to paraphrase Abraham Lincoln, will "a team of the players, by the players and for the players perish from the Earth"?