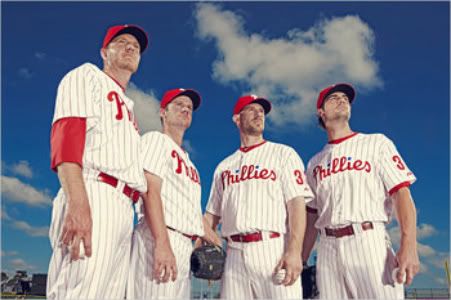 At SBNation, a look at
why people perceive Cliff Lee and LeBron so differently
:
Yet that doesn't completely explain the different ways in which the two superstars were treated. Before the 2010 World Series, Lee's career post-season record was 7-0 with a 1.26 ERA. In his two starts against the Giants, he went 0-2 with a 6.94 ERA.

No one thinks his failures on the game's biggest stage invalidates his entire career. No one thinks Lee ruined his legacy by choosing to play "second fiddle" to Halladay in the Phillies rotation, and no one thinks Lee choosing not be an ace makes him less of a baseball player.

Great baseball players aren't viewed by the public in the same way that great basketball players are. When a basketball player wins a championship, it's seen not as a validation of his basketball ability but of his personal character. That's why Michael Jordan still sells underwear and sneakers over a decade after his retirement while Rickey Henderson has faded into obscurity.