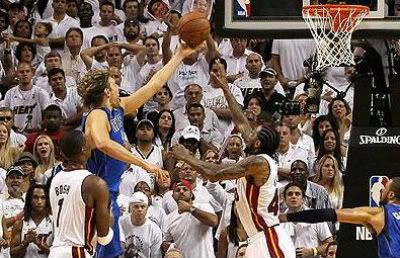 At RealGM, a look at
why NBA champions are more deserving than MLB ones
:
Since 1993, only two teams -- the Rangers and New York Yankees -- have won consecutive AL pennants. Making baseball teams play a best-of-five and two best-of-seven playoff series is entertaining, but it isn't a way to determine who the best baseball team is.

When asked to explain the outcome of a game, Rangers manager Ron Washington once famously said "that's the way baseball go". In essence, he was throwing his hands in the air and accepting that there is no rhyme or reason to whether a ball is lined out directly to an outfielder or falls in the gap for a double.

But in a world where so much of our lives are controlled by the vagaries of chance and macro-economic fluctuations, I prefer watching a sport where players have more control of their own destiny. Basketball fans don't worry about curses, hexes and billy goats. They know having the best players in the sport is the only way to win a championship.