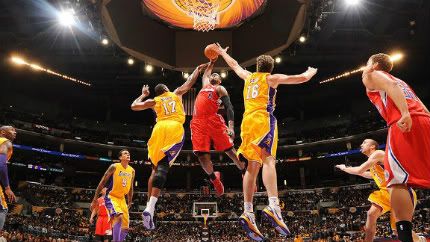 LA Clippers (+3.5) over LA Lakers:
Pros:
Even without Chris Paul, the Clippers have a huge advantage at the point guard position with Chauncey Billups and Mo Williams. Paul's absence is the only plausible reason for why the Clippers, who have been at home all week and haven't played since Sunday, are the underdogs against an aging and bickering Lakers team.
Cons:
Caron Butler isn't as athletic as the ideal Kobe defender, and Bryant will have the ability to hoist fade-away jumpers all night long.
That won't work over a full season
, but it might work for one night. The length of LA's front-line could give Blake Griffin, whose perimeter jumper is shaky, trouble in the half-court.
Result:
Lakers 96, Clippers 91
NBA ATS:
0-2-0