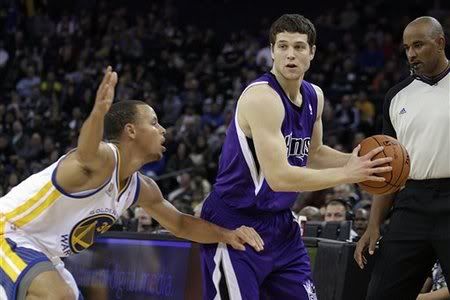 At RealGM, a look at why
Jimmer Fredette's struggles in the NBA shouldn't be surprising
:
Despite his lofty draft status, Fredette's

struggles in the NBA aren't that surprising

. More broadly, they illustrate a common mistake in how college prospects are evaluated: the ability to score a lot of points, even for a Top 10-15 team, doesn't necessarily translate to the next level. Conversely, there are many collegiate role players who will have better pro careers than All-Americans like Fredette.
BYU provided the perfect situation for Fredette: the Cougars built their entire offense around him, spreading the court with shooters and letting him isolate at the top of the key. In his senior season, he took a jaw-dropping 21 shots a game, meaning he was shooting once every two minutes. His ability to hit a vast array of difficult long-range shots was certainly entertaining, but

creating a shot off the dribble is only one of five different skills an NBA player needs

.
With that in mind,

the one player I would stay far away from is Ohio State's Jared Sullinger

. There's no arguing with his collegiate production, but like Fredette, he's not going to be valuable to a team if he isn't dominating the ball. The Buckeyes' offense is built around his low-post game, as Thad Matta surrounds him with shooters (DeShaun Thomas, William Buford, Aaron Craft, Lenzelle Smith Jr.) who make a concerted effort to pound him the ball inside.