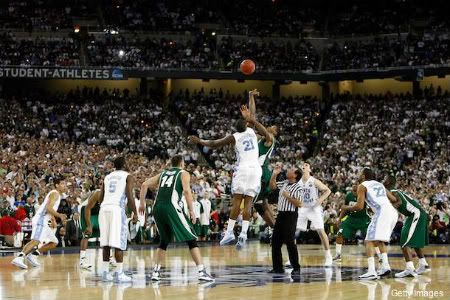 At RealGM, a look at
what makes March Madness unique and as compelling as the NBA
:
In the NBA, the owners of the 30 franchises consider turning a profit and getting an equal shot at the top players a right, regardless of how well (or how poorly) they run their organization and

the respective size of their fan-bases

. Since every losing team is a few ping pong balls from the rights to a LeBron James, Kevin Durant or Dwight Howard, personnel determines scheme in the NBA.
In contrast, the vast majority of the 344 Division I programs in college basketball have little chance of ever receiving a commitment from a McDonald's All-American. But

instead of petulantly trying to sabotage the sport

in a misguided effort to legislate fairness, schools try many creative ways of leveraging the talents of the players they can recruit. As a result, scheme determines personnel in the NCAA.
So while nearly every NBA team runs a fairly similar system of isolations, pick-and-rolls and man defense, an incredibly diverse array of styles can be found in the college game. On one end of the spectrum, teams like Missouri play four guards and pressure the ball 94 feet for 48 minutes, on the other, teams like Wisconsin run a deliberate motion offense, trying to minimize the number of possessions and shoot at the very end of the shot-clock.