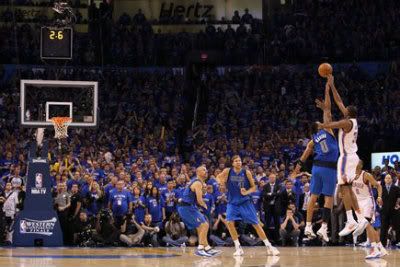 At SB Nation Dallas,
an in-depth preview of the matchups in the Dallas/Oklahoma City first round series
:
In breaking down an NBA playoff series, you can throw away the storylines and you can throw away how each team has performed against the other 28 NBA teams. All basketball games begin with the matchups, and understanding a series starts with breaking down whose guarding whom.
In last year's Western Conference Finals between these two teams, Dallas exploited the poor jump-shooting ability of three of Oklahoma City's starters. The Mavericks packed in their defense and dared Kendrick Perkins, Serge Ibaka and Thabo Sefolosha to beat them from the perimeter. The story of the series was the Thunder's inability to score with a traditional line-up, as they continually dug themselves huge early deficits.
This year, Chandler is gone and Harden has assumed a much larger role in the offense. However, Dallas still has many of the other match-up advantages they had in 2011, which is why their first-round series should be a lot more competitive than the regular season records might indicate.