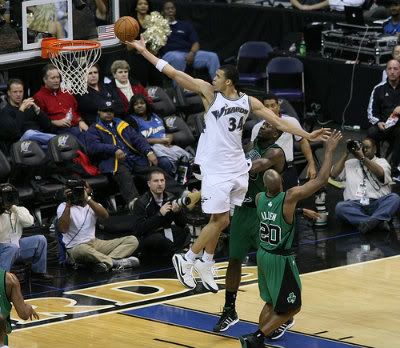 At RealGM, a look at
Javale McGee's impressive first-round series against the LA Lakers
:
Over the last few seasons, JaVale McGee has emerged as one of the most exciting young players in the NBA. A 7'0, 250 center who thinks he is a point guard, McGee's boundless enthusiasm, irrational confidence and dubious understanding of some of basketball's most basic rules have made him a YouTube star.

However, now that he has been removed from the dysfunctional Washington Wizards' locker room and placed in a more professional environment with the Nuggets, his talent is starting to shine through. And after yet another dominant performance against the Lakers' massive front-line in Game 5, McGee will be one of the most intriguing free agents in the NBA this summer.

Andrew Bynum (7'5 wingspan) and Pau Gasol (7'4 wingspan) are the longest frontcourt tandem in the league, and their length can absolutely suffocate opponents. McGee, with a 7'6 wingspan, 9'6 standing reach and max vertical of over 30', is one of the only players in the NBA who can consistently score over the top of the Laker big men.