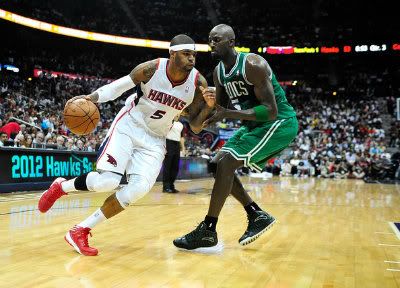 At RealGM, a look at
the changing of the guard at the power forward position out East
:
Garnett, along with Tim Duncan and Dirk Nowitzki, revolutionized the power forward position. Despite being 7'0, he preferred to play on the perimeter, where his quickness made him a defensive terror and his high release point made his shot unblockable. Even in his 17th season, he remains an incredibly productive player, posting a 20.4 PER while handling the interior defense for a Boston Celtics team with no other player taller than 6'8 in the starting lineup.

Boston's lack of size leaves Garnett as the best matchup for Josh Smith in their first-round series against the Atlanta Hawks. Smith, an athletic 6'9, 225 combo forward, is a textbook example of the type of multi-dimensional big man who have followed in Garnett's footsteps. And for all Garnett's wisdom and savvy, he no longer has the foot-speed or the explosiveness to handle Smith one-on-one, which is one of the main reasons why Atlanta will win the series.

After playing at small forward earlier in his career, Smith has thrived closer to the basket, especially in the high post, where his vision and foot-speed make him extremely dangerous. On an Atlanta team with a lot of good players but no great ones, it's been easy to overlook just how good he has become.