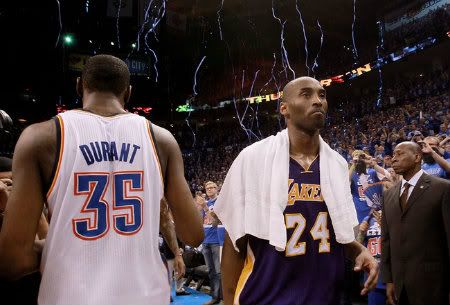 At RealGM, a look at where
the Lakers go from here after their latest second-round defeat
:
After disappointing fourth quarter performances in Games 2 and 4, Kobe came into Game 5 on a mission. He was dialed in on every possession, fighting for offensive position on the low block and repeatedly taking the ball to the rim. He did everything in his power to will his team to victory, but it wasn't even close to enough.

At the age of 33, with over 1,300 NBA regular season and playoff games under his belt, there's only so much he can do on the court. Bryant scored 42 points in Game 5, but he needed 33 shots to do it. Even more revealing were the rest of his numbers: 5 rebounds, 0 assists and 2 turnovers. That's what happens when a volume scorer who can't impact the paint on either side of the ball tries to take over a playoff game.

But while Michael Jordan's six championships are still in range, they aren't the only mark Kobe, a consummate student of the game, is chasing. He is 9,000 points behind Kareem Abdul-Jabbar on the all-time scoring list, which would be four more seasons at 25 points a game. But with his shooting percentages continuing to slip, the number of shots he would need to reach that mark would doom the Lakers to four more years of first and second-round exits, regardless of what other pieces they might acquire.