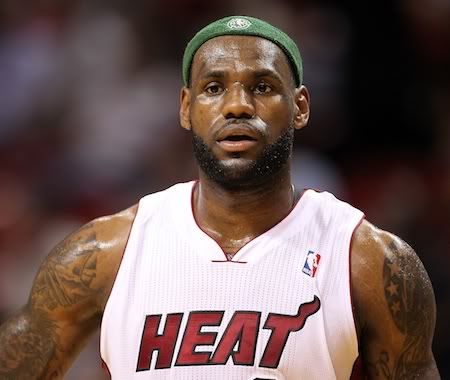 At RealGM, a look at how
LeBron's ability to play without rest is affecting the Eastern Conference Finals
:
The most impressive Game 1 stat from LeBron James wasn't his 32 points, 13 rebounds, 3 assists or 3 blocks, and it wasn't his customarily efficient 13-for-22 shooting line. Somehow, even though Miami's starters were pulled with two minutes left in the fourth quarter, LeBron still played 44 minutes.

As a result, the Miami Heat never let up the pressure on an opponent's back-line. With either Dwyane Wade or LeBron is on the floor for all 48 minutes, having a shot-blocker on both your first and second units is almost a necessity.
It's a huge problem for an undersized Boston Celtics team that only plays one conventional big man (Kevin Garnett). Without Garnett in the game, the Eastern Conference Finals is a conga line at the front of the rim for Miami. Doc Rivers could only take him out for two-minute stretches in the second half, with Boston -3 in the third quarter and -2 in the fourth without him.