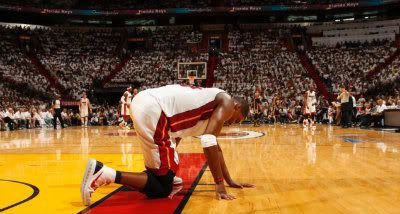 At RealGM, a look at
how Chris Bosh's absence affects the Miami Heat and increases the pressure on their two stars
:
Bosh, who shoots 41% from outside of the paint, is the only one of the Heat's big men whom other teams have to respect from the perimeter. Joel Anthony (35%) and Ronny Turiaf (27%) are extremely limited offensively, while Udonis Haslem (36%) is wearing down as he enters his early thirties.

When Bosh isn't on the floor, defenses can run a de-facto zone and station both of their big men in the paint. There aren't many two-way 6'11+ forwards in the NBA who can challenge defenses out to 20+ feet; that's what Erik Spoelstra means when he says that Bosh is the Heat's "most irreplaceable" player.

Without him, the Heat's conventional line-ups don't have enough perimeter shooting. In Game 2, line-ups which featured any combination of Anthony, Haslem and Turiaf on the floor were a combined -12. When either Wade or LeBron had the ball, there would be three non-shooters surrounding them, and the lack of floor spacing killed Miami.