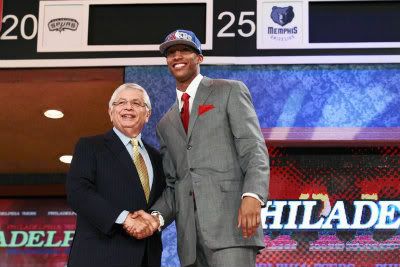 At RealGM, a look at why
the 76ers are haunted by a draft-day mistake from two years ago
:
Even if the Philadelphia 76ers are able to win a road Game 7 in their second-round series against the Boston Celtics, they would be a huge underdog against either the Miami Heat or the Indiana Pacers in the Eastern Conference Finals. Going from "good" to "great" is the hardest jump to make in the NBA and the 76ers don't have the personnel to do it.

Their problems start up front: in a league where size is everything, they don't have a big man who can create his own shot or play above the rim defensively. With an excellent trio of perimeter players in Jrue Holiday, Lou Williams and Andre Iguodala, the 76ers are one elite 6'10+ big man away from being relevant. However, those are the toughest players to find in the NBA, which is why the decisions they made in the 2010 draft still loom over the franchise.

If they had taken DeMarcus Cousins, Greg Monroe or Derrick Favors, they would have changed the entire trajectory of their franchise. Now, they seem doomed to follow in the path of the Atlanta Hawks, another perennial playoff team crippled by a disastrous draft miss at No. 2 overall (Marvin Williams over Chris Paul and Deron Williams).