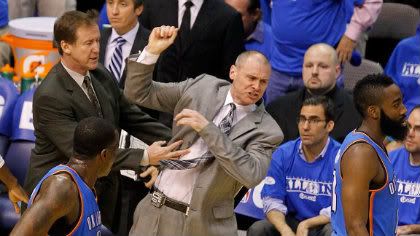 At SB Nation Dallas, a look at
how Rick Carlisle's stubbornness cost the Mavericks against the Thunder
:
Carlisle stuck with his veterans to the bitter end, going all-in with a Game 4 starting lineup that featured Jason Terry, Jason Kidd and Brendan Haywood despite the trio's underwhelming performance through the first three games.

And while Haywood took up space for over half the game, Ian Mahinmi and Brandan Wright remained chained to the bench. In 13 minutes, Mahinmi had more points, rebounds and blocks than Haywood had in twice that much time. Wright, meanwhile, is the team's longest and most athletic center, with a block percentage (6.4%) nearly double than anyone else on the roster.

In his post-game press conference, Carlisle claimed he tried everything in the fourth quarter, when the Mavericks were outscored 35-16. Somehow, it never occurred to him to play the team's best shot-blocker as Oklahoma City ran a train at the rim.