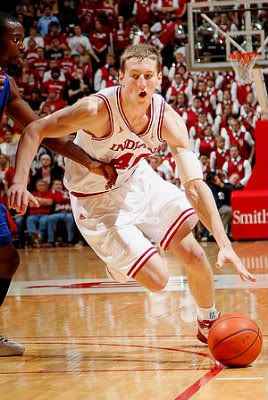 At SB Nation, a look at
the Top 10 NBA prospects headed back to school for the 2012-2013 season
:
This season, with no threat of a lockout, the blue bloods were decimated by NBA defections. As a result, many of the top NBA prospects returning to school for the 2012-2013 season are from schools off the beaten path, setting up what could be an extremely wide-open NCAA Tournament in 2013.
Who he is: The youngest brother of the Zeller clan, Cody has more potential than either Luke (Notre Dame) or Tyler (UNC). At 6'11, 230 pounds, he's the most solidly built of the three, which enables him to establish deep post position on the low block. A fundamentally sound player with the physical tools to be a top-line NBA center, he got Anthony Davis in foul trouble in both of their meetings last season. As a freshman, he averaged 15.6 points and 6.6 rebounds on 62.3 percent shooting.

What he needs to improve: He'll still need to put on weight to operate in the paint on the next level, so 10-15 pounds of muscle would go a long way. As a sophomore with a lot of talent around him, he'll be expected to have a 20/10 first-team All-America season.