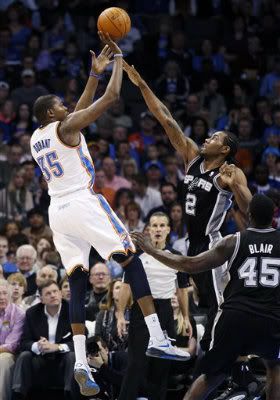 At RealGM, a
preview of the Western Conference Finals and why the Spurs recent hot streak doesn't mean all that much
:
In the NBA playoffs, momentum is fairly ephemeral. A large portion of a player's performance depends on who they are defending and who is defending them; how they played against a different opponent the week before only has so much predictive value.

Against either Sefolosha or Westbrook, Parker won't have his typical athletic advantage on his initial perimeter defender. As a result, San Antonio will probably run a lot of pick-and-rolls to free up Parker and test Oklahoma City's defensive rotations. In many ways, the veteran Spurs, with skilled shooters and passers at nearly every position of the floor, represent the ultimate test for a Thunder team that too often uses their athletic advantage to cut corners defensively.

On the other end of the floor, Oklahoma City's perimeter athleticism will test San Antonio's team defense in ways that the Clippers or the Jazz could not. The Thunder have three different players (Westbrook, Harden and Kevin Durant) who can get to the front of the rim, and Tim Duncan doesn't have the quickness to challenge and recover to his man like he once did.