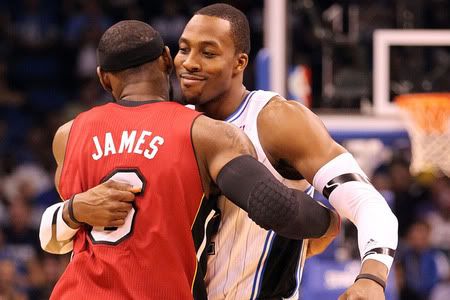 At RealGM, a look at
how Miami's championship has changed the shape of things to come in the NBA
:
LeBron knew what he was saying two years ago. The amount of talent that's been assembled on South Beach is incredible: their top three players have made 23 of 27 possible All-Stars Games in their careers. And after two years of tinkering, the Heat's lineup finally clicked in the 2012 Finals, resulting in an offensive onslaught even an Oklahoma City Thunder team with three All-Star caliber-players of their own couldn't withstand.
That's why the biggest long-term threat to the fledgling dynasty in Miami has always been just a few miles up the road. Dwight Howard, an uber-athletic 6'11, 265 center and three-time Defensive Player of the Year, is the one player in the NBA who makes LeBron play in the shade. Now, at the lowest moment of his career, he must be pretty envious of his Hall of Fame counterpart across the state. Howard made the NBA Finals with a team whose best scorer was Hedo Turkoglu; imagine what he would do with Bosh and Wade or, for that matter, Westbrook and Harden.
The Heat were built on a practice court and not in a boardroom, and that is the real game-changer at the heart of this grand experiment on South Beach. Wade, LeBron and Bosh weren't brought together by the vagaries of ping-pong balls, reverse-order drafts and lopsided trades. They took control of their own destiny, decided to play together and looked for a franchise who would hand them the keys.