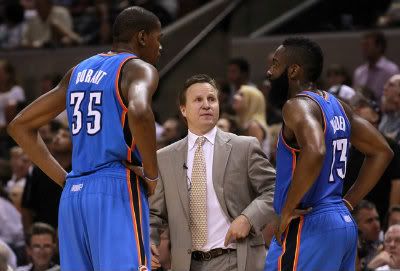 At RealGM, a look at how
the coaches substitution patterns have affected the NBA Finals
:
When the Miami Heat made their biggest run of Game 3, a 15-3 stretch at the end of third quarter, they had LeBron James and Dwyane Wade on the floor. The Oklahoma City Thunder, meanwhile, had three of their best four players sitting on the bench.

Spoelstra is coaching desperate. In terms of the players on the floor, he is micro-managing every possession. He's repeatedly called timeouts after the Thunder have made 4-0 or 5-0 "runs". In the last month, he's changed his starting lineup six times. In contrast, Brooks has kept the same starting line-up for over a year and a half, ever since Kendrick Perkins was acquired at last season's trade deadline.

Twenty years later, there's a good chance 6 of the 12 players on Team USA are playing in the NBA Finals. Miami almost always has at least two All-Star caliber players on the floor; the Thunder need to do the same. As this series goes forward, the best chance for Oklahoma City to win is for Durant, Westbrook, Harden and Ibaka to play 40+ minutes.