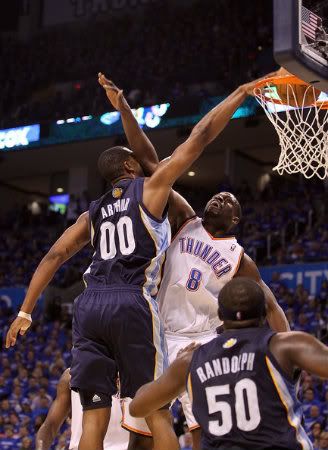 At RealGM, a look at
how Darrell Arthur and Eric Maynor's return from injuries will help their respective teams
:
While there are only a small handful of players capable of changing the balance of power in the NBA, a close playoff series can be swung by what one rotation player does (or does not) give a team in a four-or-five minute stretch. Neither the Oklahoma City Thunder or the Memphis Grizzlies have had the flexibility to make any major moves this offseason, but both should be significantly improved by a talented young role player coming off a year-long injury.

Darrell Arthur, the No. 27 pick in the 2008 draft, and Eric Maynor, the No. 21 pick in 2009, will never be stars. However, their absence due to season-ending knee injuries was sorely felt by their respective teams last season.

Without Arthur in the 2011 playoffs, Memphis coach Lionel Hollins had to mix and match frontcourt reserves. It came to a head in Game 7 of their first-round series against the LA Clippers, when Hamed Haddadi and Dante Cunningham, two marginal NBA big men, played seven crucial minutes in the second half. The Grizzlies were -9 in those minutes; they lost the game 82-72.