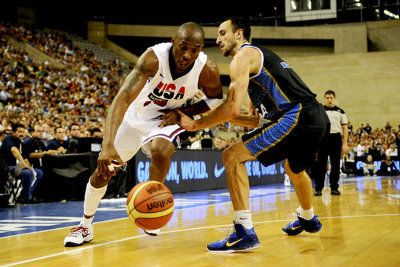 At RealGM, a look at
why the Lakers need Kobe to play like he does for Team USA
:
In Team USA's 100-78 victory over Spain on Tuesday, Kobe Bryant had six points, four rebounds and three assists. The most remarkable part of his performance was how unremarkable it was: he scored in the flow of the offense, picking and choosing his spots while making plays for his teammates.
The Lakers aren't quite Team USA, but they will have a mind-boggling amount of offensive firepower next season. With the addition of Steve Nash, Los Angeles now has All-Star caliber players at four of the five positions. Their biggest problem will be making sure everyone gets enough touches.
On Team USA, Kobe is one of many offensive weapons at Coach K's disposal. It makes no sense for a team that has Carmelo Anthony, LeBron James and Kevin Durant to give a 34-year old shooting guard the green light to shoot the ball at will. The same is true for an NBA team with Gasol, Bynum and Nash.