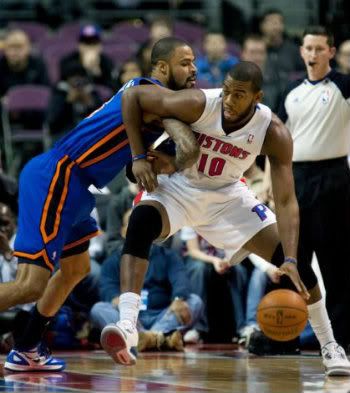 At RealGM, a look at
how the Detroit Pistons may have quietly built a future title contender
:
However, due to the increasing fascination with guard play in the NBA, the Pistons were able to get the most skilled big man in the 2010 draft (Greg Monroe) and the most athletic big man in the 2012 draft (Andre Drummond). And in a league getting smaller by the year, Detroit has the chance to buck convention by building an elite team around two Twin Towers.

Monroe, still only 22 years old, is one of the NBA's most promising young big men. With a usage rating of 23.4, he's one of the rare big men who can create his own shot with his back to the basket. In his second year with Detroit, he's already averaging a double double (15 points and 10 rebounds on 52% shooting).

Drummond, a super-athletic 7'0, 280 shot-blocking machine, has the potential to be an MVP caliber player. But even if he never reaches his ceiling, his game complements Monroe well, giving Detroit a two-headed 6'10+ monster in their front-court.