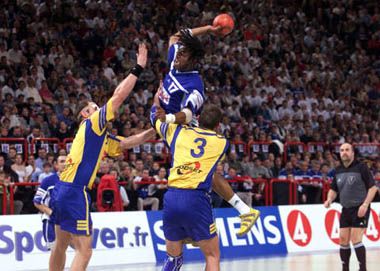 At SB Nation, a look at
my personal experience with the sport of Team Handball
:
While the rest of the country was discovering (and falling in love) with team handball over the weekend, I went to probably the only high school in the US that had it as a "varsity" sport.

We had a PE coach from Romania who used to be a professional water polo player. (Water polo, like team handball, is apparently big in Eastern Europe) He also had a tremendous amount of body hair, but I digress.

Handball is basically water polo on land, if that doesn't mean anything to you, you can think of it as basketball meets soccer. I played for a year, which by Skip Bayless logic, makes me a bonafide team handball expert.