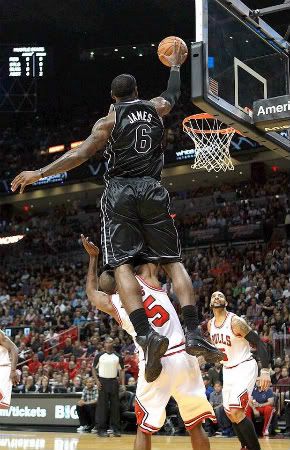 At RealGM, a look at
why LeBron and the Miami Heat are about to roll the NBA
:
In a match-up of two equally skilled players, individual defense

is primarily a function of being longer, stronger and faster than your opponent

. There are a small handful of All-NBA caliber players with a skill-set comparable to LeBron; there isn't a player in the world who can compare with him athletically.
The Bulls, with three of the best interior defenders in the NBA in Joakim Noah, Taj Gibson and Omer Asik and excellent perimeter athletes in Derrick Rose and Ronnie Brewer,

became an elite team due to a defense unrivaled in terms of length and intensity

. In the first quarter Sunday, LeBron made them look like the Toronto Raptors.
A year later,

the Heat are much improved

. They have the same starters, but instead of running out players like Bibby, James Jones, Erick Dampier, Zydrunas Ilgauskas, Jamaal Magloire, Juwon Howard and Carlos Arroyo in the regular season, the first four players off their bench are a healthy Udonis Haslem and Mike Miller, free agent acquisition Shane Battier and rookie Norris Cole. Cole, an athletic 6'2 175 guard, gives them someone to match up with players like JJ Barea,

whose ability to blow by Miami's point guards in the Finals made him an unlikely folk hero

and an even unlikelier $20 million from Minnesota in the offseason.
More importantly, the only two teams in the league with better records, Chicago and the Oklahoma City Thunder, are similarly perimeter-oriented. Even the New York Knicks, who were able to sign Chandler in the off-season,

effectively eliminating Dallas' chance to repeat

, have

to depend on Carmelo Anthony outplaying

LeBron over a seven-game series to threaten Miami. Trying to defeat a well-rounded Miami squad built around a prime LeBron James is going to be a Herculean task for any team built around a great perimeter player.