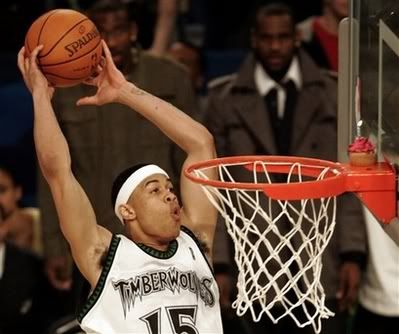 At RealGM, a look at why
the Nets have nothing to lose in digging up reclamation projects like Gerald Green
:
While Dwight Howard would change everything, if the Orlando Magic decide to deal their All-NBA center, the Nets potential trade chips

pale in comparison to Andrew Bynum

. If Orlando keeps Howard until the end of the season, Dallas, Williams' hometown, is a much more attractive destination for both marquee free agents this summer.
Without Howard, there's no reason for Williams to remain with the Nets. Without Williams, the Nets will be trying to open their new arena in Brooklyn without a single marquee player. Mikhail Prokhorov was supposed to help attract free agents, but he seems to have lost interest in his NBA franchise, as he's currently running against Vladimir Putin for the Russian Presidency.
That's what makes their mid-season signing of Gerald Green so interesting. A super-athletic 6'7, 195 shooting guard with a 6'10 wingspan, he

was the No. 1 player in the country coming out of high school in 2005

. As a 20-year-old rookie in Boston, he had a per-36 minute average of 16.1 points on 47.8% shooting.
However, he was never able to integrate his talents into an offensive scheme or play with consistent effort defensively, washing out of the NBA at the age of 23. Now, three years later, he's been humbled by stints in the D-League and Europe. An AAU star whose career fizzled due to off-the-court issues, he

fits the profile of late-blooming players in the modern NBA

.