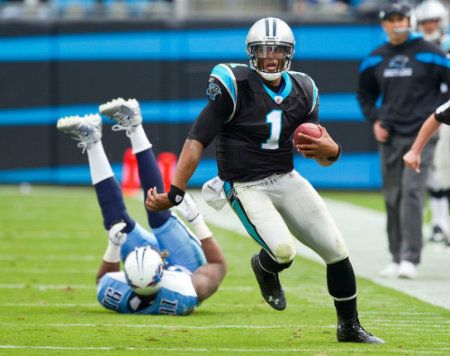 At RealGM's football section, a look at why
Cam Newton has the chance to be a transcendent player
:
There have never been a quarterback quite like Cam Newton before. A generation ago, 6'5 250 players who ran a 4.5 40 didn't exist. If they did, they were made pass rushers or linemen. Quarterbacks were almost never the best athletes on their team.
But there are several important differences between Newton and the players who came before him. Vick, at 6'0 215, doesn't have the size to stay healthy while running the ball over a 16-game season. Tebow and Young, meanwhile, aren't capable enough as passers to be full-time starting QB's in the NFL.

Newton is the first player with the necessary size, athleticism and passing ability to be a dual-threat QB in the NFL. Despite the concerns about him coming out of Auburn, he didn't need much time to prove he could play at the next level. As a rookie, he completed 60% of his passes and threw for 4,051 yards while running for 706 yards and 14 TD's.