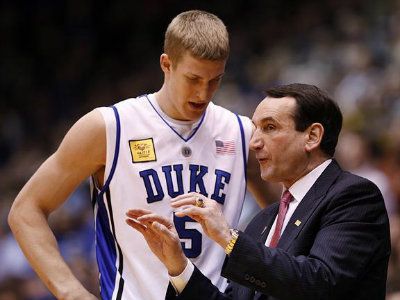 At SB Nation, the latest NBA Draft Toolbox looks at
Duke's NBA prospects and why they've traditionally "underperformed" in the pros
:
But if there's been a criticism of his program, it's that his players' success in college hasn't translated to the NBA. In the last decade, Duke has won two NCAA titles but had only two players (Carlos Boozer and Luol Deng) become All-Stars. That's an average recruiting class for John Calipari. Jay Williams' motorcycle accident and Kyrie Irving's youth skews that number a bit, but it's a revealing trend nevertheless.
Not having future NBA stars on his teams isn't a bug in Coach K's system, it's a feature of it. While the Blue Devils are rarely the most talented team in the country, the "secret" to his success is that they are almost always one of the most experienced. Most elite prospects go pro after one or two years in college, so Coach K targets prospects a level below, guys with NBA potential who still need 3-4 years of seasoning in the college ranks.
That's a rarity in the college game these days, especially among elite programs. UCLA starts three freshmen this season; Kentucky starts four. Duke's three leading scorers, in contrast, are all seniors -- Mason Plumlee, Ryan Kelly and Seth Curry. And while all three are NBA prospects, only Plumlee has any chance of being taken in the lottery. In five years, this group of Blue Devils would almost certainly lose to the players on the Bruins' and the Wildcats' rosters. There just isn't nearly as much high-upside NBA talent. However, that doesn't mean they will lose to them this March.