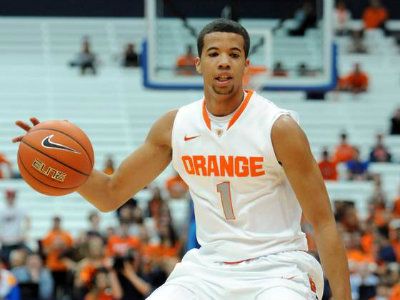 At SB Nation, a scouting report of Syracuse's prospects and a look at
why there's no one in college hoops like MCW
:
A guard who can't score or shoot better be a great passer, rebounder and defender. In the modern NBA, there's only three guys who have fit that description: Jason Kidd, Ricky Rubio and Rajon Rondo. They share a lot in common: exceptional size (Kidd and Rubio are 6'4, Rondo is 6'1 but has a freakish 6'9 wingspan) and speed, which allows them to dominate defensively and get out in the open court, either through forcing turnovers or grabbing defensive rebounds. In the halfcourt, their exceptional floor vision allows them to dissect defenses playing 4-on-5 against them.
Syracuse sophomore Michael Carter-Williams impacts the game in a similar way. He's a lightning-quick 6'6, 185-pound point guard with great ball-handling ability and floor vision. He averages 12 points, 10 assists, five rebounds and three steals per game, all while shooting an abysmal 39/26/75 from the floor. Despite his poor shooting, no defender can stay in front of him. He effortlessly glides to the front of the rim, where he has the vision and length to pass the ball to any spot on the floor.
Even though he only played 10 minutes per game as a freshman, he has completely taken over the Syracuse team this season, playing almost the entire game with the ball in his hands. That's the conundrum with a ball-dominant guard who can't shoot: it's all or nothing. Either they're the hub of the offense or an afterthought; they can't be a role player. As a freshman, Carter-Williams was stuck behind Scoop Jardine and Dion Waiters. Because he destroyed Syracuse's floor spacing off the ball, he was next to useless with Jardine and Waiters running the offense.